NOD Global
2 Story Bee Cozy Winter Bee Hive Wrap
$23.50
$26.95
(You save $3.45)
Qty
Price
11 - 49

$24.25
50 - 107

$20.95
108 - 0

$19.50
2 Story Bee Cozy Winter Bee Hive Wrap
Bee Cozy winter hive wraps are made with recycled high density materials layered with R8 insulate protection to reduce heat loss from the hive. They are lightweight and easy to slip on and off your hives. Wrapping and unwrapping is very fast and can easily be done by a single person. No unwrapping is required to check the hives. Wraps have a 5+ year average life expectancy. After you take them off your hives in the spring, store them in a clean dry place.
Two story Bee Cozy winter bee hive wraps wraps will fit snugly around a 10 frame hive; they will also fit around an 8 frame hive with a little modification. This Bee Cozy will fit a 2 story tall bee hive.
Find information here on the many benefits of Bee Cozy Winter Bee Hive Wraps.
Two story bee hive is not included.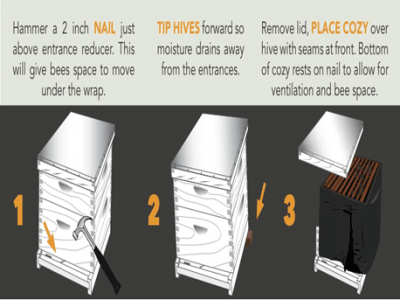 Bulk Pricing

From 11 to 49 -- Discount per item ($24.25)
From 50 to 107 -- Discount per item ($20.95)
From 108 to 0 -- Discount per item ($19.50)
Great product for wintering.
I have used these to help my colonies survive the pennsylvania winters for the last two years. These cocers along with other winter preparation have given me 100% winter survival of hives ive used them on. I caught two swarms this spring and forgot to get the bee cozy covers for them, thanks for the prompt delivery. Im sure my bees would thank you too if they had any stamps.