NOD Global
2 Story Bee Cozy Winter Bee Hive Insulation Wrap
$25.46
$29.95
(You save $4.49)
2 Story Bee Cozy Winter Bee Hive Wrap
Bee Cozy overwintering black bee hive wraps from Lappe's Bee Supply are made with recycled high density materials layered with R8 insulation protection to reduce heat loss from the hive. They are lightweight and easy to slip on and off your hives. Bee Cozy winter bee hive wraps are proven to work for the North American and United States winters. **IMPORTANT: The seam where this wrap comes together is also called a chimney. This chimney needs to be placed directly over your beehive entrance and has a crucial function. It allows just enough air flow between your hive bodies and the wrap to get rid of excess moisture; without it, you could end up with deteriorated boxes and a moisture problem on the inside of the hive. Moisture on the inside of the hive can lead to moldy frames and can even cause the death of your entire hive.**
Wrapping and unwrapping is very fast and can easily be done by a single person. No winter unwrapping is required to check the hives. Wraps have a 5+ year average life expectancy. After you take them off your hives in the spring, store them in a clean dry place to be ready to use again for next winter.
Two story Bee Cozy winter bee hive wraps are available in both an 8 frame bee hive size and a 10 frame bee hive size. This Bee Cozy will fit a 2 story tall bee hive.
Find information here on the many benefits of Bee Cozy Winter Bee Hive Wraps.
Two story bee hive is not included.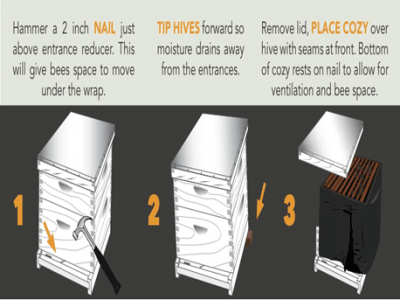 We sell two story winter hive wraps, 2 story storey Bee Cozy winter bee hive wraps, winter beekeeping supplies around the United States to Alabama, Alaska, Arizona, Arkansas, California, Colorado, Connecticut, Delaware, Florida, Georgia, Hawaii, Idaho, Illinois, Indiana, Iowa, Kansas, Kentucky, Louisiana, Maine, Maryland, Massachusetts, Michigan, Minnesota, Mississippi, and Missouri. If you are looking for winter bee supplies winter beekeeping supplies with free shipping, we have the supplies you need at Lappe's Bee Supply. We also ship to Montana, Nebraska, Nevada, New Hampshire, New Jersey, New Mexico, New York, North Carolina, North Dakota, Ohio, Oklahoma, Oregon, Pennsylvania, Rhode Island, South Carolina, South Dakota, Tennessee, Texas, Utah, Vermont, Virginia, Washington, West Virginia, Wisconsin, and Wyoming. Also included is shipping to Canada and many other countries around the world.
This is the greatest product. Best find.
Great product!!
Product serms to be heavy duty and should be reusable for several years. Installed very easily in just a few minutes. Much simpler than the foam board I've used in the past.
Great product for wintering.
I have used these to help my colonies survive the pennsylvania winters for the last two years. These cocers along with other winter preparation have given me 100% winter survival of hives ive used them on. I caught two swarms this spring and forgot to get the bee cozy covers for them, thanks for the prompt delivery. Im sure my bees would thank you too if they had any stamps.