Beginning beekeepers come to us with many questions about starting beekeeping, find answers to those questions here, from where to buy bees, to how much honey & more! The biggest point that we cannot stress enough is, please don't feel unnecessarily pressured into purchasing your packages earlier than January 1st. Most of your local suppliers will not start taking orders until after the first of the year; by waiting to purchase your bees until then, you will be giving yourself a lot of different purchasing options and prices.
Where do you buy honey bees, where can I buy a bee hive, or where can I find honey bees for sale?
There are many suppliers that sell packages of honey bees and honey bee nucs. Read our article about shipping honey bees and why it's a good idea to pick the bees up from a supplier close to you. You can usually find bee suppliers by searching for honey bees for sale near me, packaged honey bees for sale, or where can I buy honey bees.
How do I buy honey bees?
Honey bees are most commonly available to buy in a 2 pound, 3 pound, and sometimes in a 4 pound package, or in a nucleus colony (or a "nuc" for short). The most common sizes of nucs are 4 frames or 5 frames. Each nuc or package will contain a mixture of nurse bees, forager bees, guard bees and drone bees, and each will also include a young, mated queen.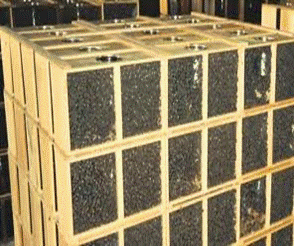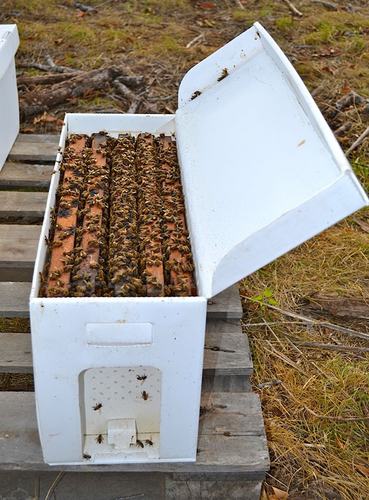 Why do you need to purchase honey bees?
There are a number of reasons why you would need to purchase honey bees: if you are a new beekeeper starting beekeeping; if you are a current beekeeper, adding to your number of colonies; or if you are a current beekeeper, replacing hives that died over the winter. There is a way to get honey bees without having to buy them: set your bee hive out and see if you can catch a swarm. Although they are "free"bees, there could be some problems with catching the swarm. If it is a small swarm, or late in the summer, the bees won't be able to build up enough to make it through the winter. There could be a problem with the queen that will prevent her from starting to lay eggs, or there might not even be a queen with them at all. You may not even be able to have a swarm move in.
When do you need to order honey bees?
Bee suppliers usually start taking orders for packages and nucs after the first of the year, and the bees will usually come in around April - May. Please keep in mind, though, that most bee suppliers sell out of bees fairly quickly, so the earlier you get your order in, the better chance you will have at being able to get your packages for the year. The best month to get your order placed is throughout the month of January. The sooner you can start your bees after April 1st, the longer they will be able to build up and have a bigger workforce when the first honey flow starts.
How much do bees cost?
Honey bee prices vary from supplier to supplier, and are based on the size of the package or nuc. Usually 2 pound packages are between $95 - $135, 3 pound packages are between $130 - $160, and nucs usually are between $150 - $300.
What is the difference between a 2 pound and a 3 pound package of bees, and how many bees are in a pound?
There are approximately 3,000 to 4,000 bees in 1 pound, so a 2 pound package will contain around 7,000 bees and a 3 pound package will contain around 10,000 bees. Each pound of bees will cover 1 frame in the bee hive, so if you get a 3 pound package of bees you should have about 3 frames of bees, and are starting out with a stronger work force.
How many bees are in a bee hive?
A strong healthy bee hive usually has around 50,000 bees in it during the height of the honey flow, but those numbers will drop back down to around half that amount, or even less, during the winter months.
What is included in a package of honey bees?
Inside a package of bees is anywhere from 2 to 4 pounds of bees (depending on the size of package you purchased), which includes forager, nurse and drone bees, and a young, mated queen will be hanging inside in a queen cage seperately from the worker bees.
How do you start beekeeping?
Start by taking a beekeeping class, reading beekeeping books, or talking to beekeepers in your area by joining a beekeeping club to get an idea of what is involved with beekeeping. Invest money in your beehive(s), beekeeping supplies, protective clothing, and of course, place your order for your bees.
How many beehives should I start with?
Start with however many you would like to, or however many your budget can afford. We always advise new beekeepers to start out with at least 2 or 3 bee hives - that way you can compare them with each other for strength and activity; you can swap frames around with some of them to help strengthen a hive up, and if you lose 1 hive during the winter, you'll still have the other hives instead of having to start over again with no bees.
How do I put my package of bees into my bee hive?
We have a page here where you can find an article regarding putting packaged honey bees into the hive, and you can find an article here about putting a honey bee nuc into a hive.
How much honey can you get from a hive?
The amount of honey that you can get from your honey bees can vary from hive to hive. A smaller, weak colony can barely make enough honey to get them through the winter, while a strong healthy colony can make around 250 pounds of honey, or more.
Do honey bees fly in the winter?
Bees stay in their bee hive in the winter, although they do not hibernate. They gather together in a cluster to produce enough heat to keep from freezing. Bees will come out on warm enough days, though, to do a cleansing flight.
How much are honey bees worth to the economy?
PRICELESS!
From all of us here at Lappe's Bee Supply and Honey Farm LLC,

Lappe's Bee Supply is one of the top suppliers of free shipping beekeeping supplies for sale in the United States. Where can I buy 20/20 painted assembled new colony bee hives for sale? Buy your 8 frame and 10 frame bee hives from Lappe's Bee Supply! Looking for listings for beekeeping supplies on sale now? You can buy your shipped bee hives and beekeeping supplies at Lappe's Bee Supply and Honey Farm LLC! Pick up a 2019 2020 honey beehive on sale now! Buy beekeeping supplies and equipment for sale in midwest listings near me around East Peru Iowa 502 LLC farms MO. Beginning beekeeping supplies for sale! What's your package bees for sale? Lappe's Bee Supply is a Central Iowa Honey Bee Company supplier of nucs, free shipping queens, package bees for sale, bee hives and beekeeping supplies to beekeepers around Iowa, Minnesota, Missouri, Illinois, Kansas, Nebraska, South Dakota, North Dakota, Michigan, Indiana, Ohio and Wisconsin. Lappe's Bee Supply is located in East Peru Iowa. Place your orders to buy bee hives online or call us at 641-728-4361 to pick up from our bee supply honey farms or for honey bees for sale listings. We also offer free shipped queen honey bees to anywhere in the lower 48 states, and to Alaska, and we supply hobbyist and commercial beekeepers all around the USA with our queen bees. We have honey beekeeping supplies and bee hives for sale in Huntsville Tuscaloosa Hoover Vestavia Hills Montgomery Gulf Shores Mobile Birmingham Alabama AL Sitka Ketchikan Wasilla Kenai Anchorage Fairbanks Juneau Nome Alaska AK Chandler Scottsdale Glendale Gilbert Phoenix Tucson Mesa Flagstaff Arizona AZ Springdale Rogers Conway Bentonville Little Rock Fort Smith Jonesboro Fayetteville Arkansas AR San Diego Long Beach Oakland Bakersfield Los Angeles San Francisco Sacramento Fresno California CA Colorado Springs Fort Collins Lakewood Thornton Denver Boulder Aurora Aspen Colorado CO Bridgeport New Haven Waterbury Danbury Hartford Stamford Norwalk Greenwich Connecticut CT Middletown Bear Glasgow Hockessin Wilmington Dover Newark Milford Delaware DE Jacksonville St Petersburg Hialeah Tallahassee Orlando Tampa Miami Sarasota Florida FL Cornelia Macon Sandy Springs Roswell Atlanta Savannah Athens Columbus Georgia GA Pearl City Waipahu Kaneohe Kailua CDP Honolulu Hilo Lahaina Kahului Hawaii HI Meridian Nampa Caldwell Pocatello Idaho Falls Twin Falls Lewiston Boise Idaho ID Aurora Elgin Peoria Champaign Chicago Rockford Joliet Naperville Illinois IL Fort Wayne South Bend Carmel Fishers Indianapolis Bloomington Evansville Gary Indiana IN Ames Ankeny Dubuque Indianola Osceola Atlantic Des Moines Waterloo Council Bluffs Davenport Cedar Rapids Iowa IA Lenexa Overland Park Shawnee Manhattan Wichita Topeka Lawrence Olathe Kansas KS Lexington Bowling Green Covington Richmond Louisville Frankfort Paducah Owensboro Kentucky KY Baton Rouge Metairie Lake Charles Kenner New Orleans Lafayette Shreveport Alexandria LA Bangor Auburn Biddeford Sandford Portland Augusta Lewiston Wells Maine ME Columbia Germantown Silver Spring Waldorf Baltimore Frederick Rockville Hagerstown Maryland MD Cambridge Lowell Brockton New Bedford Boston Worcester Plymouth Quincy Massachusetts MA Grand Rapids Warren Sterling Heights Ann Arbor Detroit Lansing Flint Saginaw Michigan MI St Cloud Eagan Maple Grove Rochester Minneapolis Duluth Mankato Burnsville Minnesota MN Biloxi Gulfport Vicksburg Natchez Jackson Hattiesburg Tupelo Meridian Columbus Mississippi MS Branson Joplin Independence Sedalia St. Louis Kansas City Springfield Saint Charles Missouri MO Missoula Helena Butte Whitefish Billings Bozeman Great Falls Livingston Montana MT Grand Island Kearney Norfolk Ogallala Omaha Lincoln Bellevue Hastings Nebraska NE Henderson Carson City Laughlin Fallon Las Vegas Reno Sparks Elko Nevada NV Portsmouth Keene Lebanon Hanover Manchester Concord Rochester Conway New Hampshire NH Atlantic City Paterson Toms River Cape May Newark Trenton Clifton Hoboken New Jersey NJ Santa Fe Las Cruces Silver City Los Alamos Albuquerque Roswell Farmington Gallup New Mexico NM Rochester Albany Utica White Plains Buffalo Syracuse Niagara Falls Yonkers New York NY Raleigh Wilmington Cary Concord Charlotte Asheville Durham Fayetteville North Carolina NC Bismarck Grand Forks Devils Lake Mayville Fargo Minot Williston Dickinson North Dakota ND Akron Youngstown Chillicothe Strongsville Cincinatti Dayton Toledo Columbus Ohio OH Edmond Broken Arrow Enid Moore Tulsa Norman Lawton Stillwater Oklahoma OK Bend Beaverton Hillsboro Albany Portland Salem Eugene Medford Oregon OR Pittsburgh Allentown Scranton State College Philadelphia Harrisburg Erie Lancaster Pennsylvania PA Westerly Johnston Cumberland Bristol Providence Warwick Newport Cranston Rhode Island RI Myrtle Beach Spartanburg Rock Hill Anderson Charleston Columbia Greenville Florence South Carolina SC Rapid City Aberdeen Watertown Mitchell Sioux Falls Pierre Brookings Deadwood South Dakota SD Gatlinburg Franklin Clarksville Jackson Nashville Chattanooga Knoxville Memphis Tennessee TN San Antonio Fort Worth Arlington Waco Houston Dallas Austin El Paso Texas TX Sandy Layton Cedar City Murray Salt Lake City Ogden Provo Logan Utah UT Bennington Manchester Middlebury Springfield Burlington Montpelier Stowe Woodstock Vermont VT Virginia Beach Charlottesville Fairfax Chesapeake Richmond Norfolk Roanoke Arlington Virginia VA Vancouver Tacoma Everett Bellingham Washington Seattle Spokane Bellevue Olympia WA Morgantown Beckley Martinsburg Elkins Charleston Huntington Parkersburg Wheeling West Virginia WV Kenosha Racine Waukesha Eau Claire Green Bay Lake Superior Appleton Milwaukee Madison Wisconsin WI Casper Green River Gillette Rock Springs Cheyenne Jackson Cody Laramie Wyoming WY. Lappe's Bee Supply is also a large supplier of sweet honey for sale. Check out Lappe's Bee Supply website for honey extracting supplies for sale, honey containers for sale, weekly sales, holiday sales and clearance sales. No matter if you are an experienced beekeeper or just starting out, we offer all of the beekeeping supplies you need if you are near me looking for where to buy free shipped bee hives. We offer free shipping on orders of $100. We ship to the entire USA - north, south, east, west, central midwest, western, eastern, northern, southern, mountain areas, even to the northwest, southwest, northeast, southeast, and the east and the west coast. We can even ship our beekeeping supplies winter beekeeping supplies to Great Britain, UK, Canada and all the Canadian areas, and Austrailia and all the Austrailian areas. If you are near me around East Peru Iowa, in Madison County Iowa, please drop in to check out our store! Check on our online website for listings for beekeeping supplies for sale.